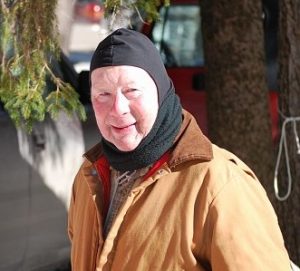 Albert "Curly" Voll  (1926-2015)
Curly's Record Run 4mi Snowshoe Race
WHEN: TBA, 10 AM start
WHERE: Lulu Brook Parking Area, Pittsfield State Forest, 1041 Cascade St, Pittsfield MA
GPS coordinates 42.493084, 73.298907
googlemaps link
REGISTRATION: $20, day-of only. Proceeds go to the Curly Voll Scholarship Fund
RACE DAY CHECK-IN: 9 AM – 9:45 AM, at the Lulu Brook Parking Area. Note that if the parking area fills up it may be necessary to park at the Forest Headquarters Building, so leave enough time to walk or run approximately a half mile to registration/race start if necessary.
COURSE: Starts in the Lulu Brook field, a grueling mix of double track and single track trails climbing almost 700′ in about 1 mile, then descending about 800′ down an 1920's ski race trail called the Shadow Trail before following a rolling route back to the Lulu Brook field.
DION SNOWSHOES available for rental during race at $5/pair; limited number, arrive early!
MORE INFORMATION: email RD Paul Bazanchuk at pbazanchuk@gmail or at Paul's race site
DID YOU KNOW: The winding, steeply-descending Shadow Trail used in this race used to be a downhill ski racing trail. The race is named for Albert "Curly" Voll, who in the 1940's set a downhill ski record on the trail that remains unbroken.