Gore Ski Bowl, North Creek, NY
Sunday, December 15, 2019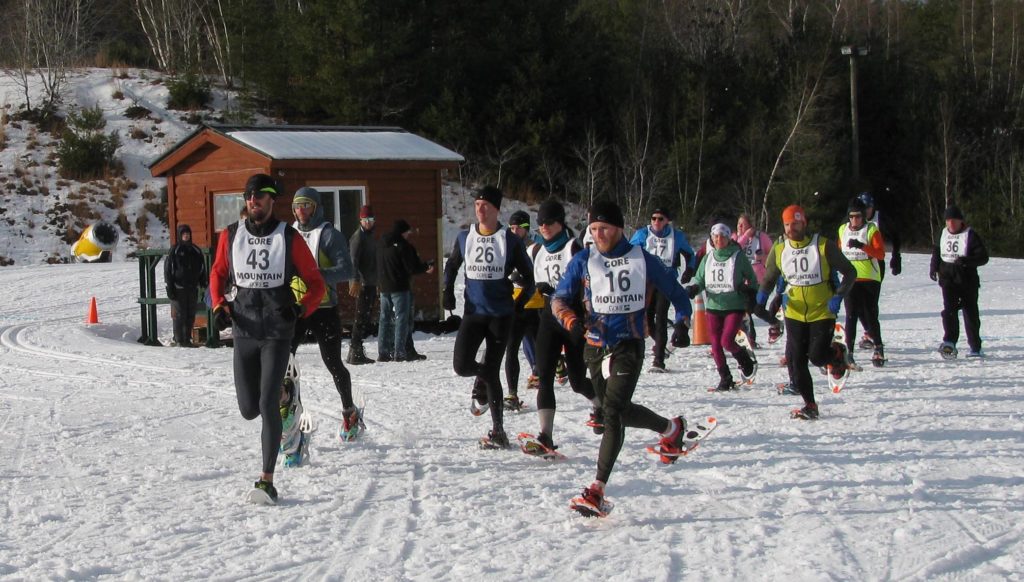 21 runners came out on a sunny afternoon to enjoy some snowshoe time on the lower loop at the Gore Ski Bowl Nordic Center. 20 runners opted for the 3-lap (approx. 2.7 mile) competitive run, and 1 opted for the 2 lap recreational snowshoe. Despite several days of warm conditions and rain, the snow had held up surprisingly well and conditions were better than just about anyone expected.
The mens' race was won by Saranac NY's Matthew Medeiros, and the womens' race was won by Verona NY's Jamie Woolsey. After everyone finished, a short awards ceremony was held during which each runner had the opportunity to choose a prize.
Our thanks go out to RD Paul Allison and the staff of the Ski Bowl/Nordic Center, who pulled together a great early season race under potentially tough conditions. Gore has been our season opener for four years in a row and hasn't let us down even once. Thanks also to Bob Underwood of Underdog Race Timing for keeping track of how quickly (or in my case, how slowly) we reached the finish at the end of that third lap.
Full results can be found below:
| place | first | last | age | sex | city | state | time | points |
| --- | --- | --- | --- | --- | --- | --- | --- | --- |
| 2.7mi | | | | | | | | |
| 1 | Matthew | Medeiros | 34 | M | Saranac | NY | 0:19:00 | 100.00 |
| 2 | Joel | Pekosz | 42 | M | Cheshire | MA | 0:21:06 | 95.00 |
| 3 | Tim | Russell | 30 | M | Saratoga Springs | NY | 0:21:30 | 90.00 |
| 4 | Shawn | Prevoir | 40 | M | Northborough | MA | 0:21:34 | 85.00 |
| 5 | Brian | Wilson | 36 | M | Dannemora | NY | 0:23:18 | 80.00 |
| 6 | Jeffrey | Andritz | 38 | M | Altamont | NY | 0:23:49 | 75.00 |
| 7 | Jamie | Woolsey | 36 | F | Verona | NY | 0:24:57 | 70.00 |
| 8 | Stacie | Minchoff | 36 | F | Plattsburgh | NY | 0:29:06 | 65.00 |
| 9 | Devin | Ashline | 27 | M | Greenfield Center | NY | 0:31:04 | 60.00 |
| 10 | Karen | Provencher | 65 | F | Glens Falls | NY | 0:31:25 | 55.00 |
| 11 | Shawn | Krutz | 54 | M | Gloversville | NY | 0:31:36 | 50.00 |
| 12 | Jen | Ferriss | 48 | F | Saratoga Springs | NY | 0:32:07 | 45.00 |
| 13 | Matthew | Miczek | 47 | M | Saratoga Springs | NY | 0:33:28 | 40.00 |
| 14 | Anthony | Barkdale | 55 | M | Gloversville | NY | 0:35:28 | 35.00 |
| 15 | William | Farrell | 70 | M | Keene | NY | 0:38:11 | 30.00 |
| 16 | Jen | Sharp | 61 | F | Greenwich | NY | 0:38:47 | 25.00 |
| 17 | Tracy | Watson | 50 | F | Johnsburg | NY | 0:38:58 | 20.00 |
| 18 | Laura | Clark | 72 | F | Saratoga Springs | NY | 0:42:57 | 15.00 |
| 19 | Jamie | Howard | 54 | M | Albany | NY | 0:45:33 | 10.00 |
| 20 | Meghan | Perryman | 40 | F | Wevertown | NY | 0:47:16 | 5.00 |
| | | | | | | | | |
| 1.8mi | | | | | | | | |
| 1 | Annie | Wy | 29 | F | Ballston Spa | NY | 0:34:28 | |
| | | | | | | | | |
| | | | | | | | | |
| | | | | | | | | |
| | | | | | | | | |