Mt Tom Snowshoe Scramble 5k/10k Races
WHEN: Saturday, January 26, 2019  start time 9 AM
WHERE: Mt Tom Reservation Lake Bray Picnic Area, 86 Reservation Rd, Holyoke, MA
GPS coordinates 42.268539, 72.616013
googlemaps link
REGISTRATION: Online $20 through 5 PM 1/25/19 or day of $25 – please print out the registration form/waiver and bring it with you to save time Saturday morning. Fee includes race and post-race pot luck (please bring a dish to share if you are able, electricity should be available.)
RACE DAY CHECK-IN: 8:15 – 8:50 AM, Lake Bray Warming Hut
COURSE: A rolling 5k loop on scenic Mt Tom trails; 10k racers will do two loops of the 5k, runners can decide during the race which distance they wish to complete. If insufficient snow and conditions permit there will be a trail race.
LOANER SNOWSHOES – VERY IMPORTANT!  The Dions are attending another event on 1/26 and will need all of their loaners for that venue, so the Mt Tom Scramble is relying on the help of the runners to provide loaner snowshoes. If you are attending the race and have one or more pairs of snowshoes that you are willing to loan, please email RD Amy Rusiecki so she has an idea of what will be available. If you're going to need to pair, please email Amy so she can try to arrange a pair for anyone who needs them.
MORE INFORMATION: email RD Amy Rusiecki
Volunteers needed – if you or someone you know would like to help with the race, please email the RD.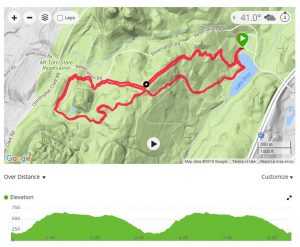 Mt Tom Reservation trail map (does not indicate race course)