WHEN: Saturday, January 25, 2020  start time 9 AM
WHERE: Mt Tom Reservation Lake Bray Picnic Area, 86 Reservation Rd, Holyoke, MA
GPS coordinates 42.268539, 72.616013
googlemaps link
REGISTRATION: Online $20 through 5 PM 1/24/20 or day of $25 – please print out the registration form/waiver and bring it with you to save time Saturday morning. USSSA members receive a $5 discount. Fee includes race and post-race pot luck (please bring a dish to share if you are able, electricity should be available.)
RACE DAY CHECK-IN: 8:15 – 8:50 AM, Lake Bray Warming Hut
COURSE: A rolling 5k loop on scenic Mt Tom trails, some significant climbs and descents; 10k racers will do two loops of the 5k, runners can decide during the race which distance they wish to complete. If insufficient snow and conditions permit there will be a trail race.
LOANER SNOWSHOES – available for rental during race at $5/pair; limited number, arrive early!
*NEW* 5K TEAM COMPETITION – The 4 fastest 5k times (including 5k splits for 10k runners) for members of each team or club will be combined, lowest combined time wins. Participants can be members of an official running team or club, or just a group of friends forming a team for the race – just make sure everyone in the group signs up under the same team or club to be included.
A USSSA NATIONAL CHAMPIONSHIPS QUALIFYING RACE – more information about qualifying for the National Championships and race discounts offered to current USSSA members can be found here.
MORE INFORMATION: email RD Amy Rusiecki
Volunteers needed – if you or someone you know would like to help with the race, please email the RD.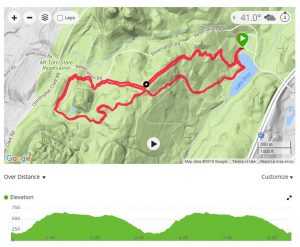 Mt Tom Reservation trail map (does not indicate race course)