Saratoga Winterfest 5k Snowshoe Race
WHEN: Sunday, February 2, 2020, 11 AM start
WHERE: Saratoga Spa State Park, 28 Roosevelt Dr, Saratoga Springs, NY
GPS coordinates 43.056852, 73.801382
googlemaps link
REGISTRATION: $15 pre/$20 day of, online or paper application; a discount is available if pre-registering for both Winterfest and Camp Saratoga at the same time. 12 yrs & under/65 yrs & older are free if pre-registered by mail.  Previous years' shirts $5, day-of only. Proceeds benefit the Natural Heritage Trust.
RACE DAY CHECK-IN: 9:30 – 10:30 AM in the Administration Building
COURSE: starts at the south end of the quad. Mostly flat with a few short, steep hills. If no snow there may be a trail race.
DION SNOWSHOES available for rental, $5/pair. Limited availability, arrive early.
EVENT WEBSITE: www.saratogastryders.org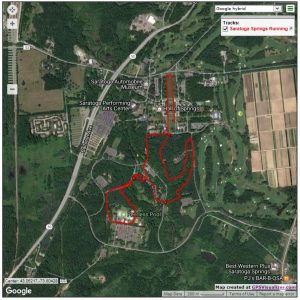 Saratoga Spa State Park trail map (does not indicate race course)