Stone Bridge Caveman 6k & 15k EXTREME Snowshoe Races
WHEN: Sunday February 16, 2020, start time 10:30 AM for both races
WHERE: Natural Stone Bridge & Caves Park, 535 Stone Bridge Rd, Pottersville, NY
GPS coordinates 43.747440, 73.852603
googlemaps link
REGISTRATION: $15 pre/$20 day of, 6k online / 15k online.
Preregistered runners will receive a free winter season pass to the park.
RACE DAY CHECK-IN: 8:30-10:15 AM at the pavilion in the lower parking lot by the caves.
COURSE: the 6k course climbs roughly 450 ft to the halfway point, then descends to the finish, with rolling terrain along the way. The 15k EXTREME features 7 major climbs, each followed by a fast descent; recommended only for snowshoers in top condition!
DION SNOWSHOES available for rental during race at $5/pair; limited number, arrive early!
MORE INFORMATION: race website or contact Greg Beckler
DID YOU KNOW: Participants are invited to hike the Stone Bridge Cave Loop Trail after the race to view the LARGEST Cave Entrance in the East and frozen waterfalls (located near to the race start/finish).
COURSE MAP: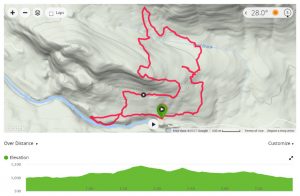 6k course 2017

15k course 2018