By Laura Clark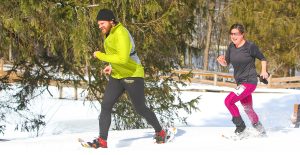 Last season, one of the original Western Mass Athletic Club snowshoers, Bob Worsham reflected, "I miss the longer races we used to have." Well, Bob, this is your year, as we look forward to offerings ranging from 5Ks, 10Ks and 15Ks, all the way up through the half and full marathon – with a team relay thrown in for good measure. Thankfully, though, the first two races on tap are all 5Ks, designed for an early season introduction, and an opportunity to practice clothing choices and strategy.
But why wait for the snow to fall? The season is but a brief shining moment and conditioning is crucial. Aaron Knoblach, who came out of seemingly nowhere – Rouses Point, to be exact – to win Snowshoe Nationals a few years back, attributes his success to superman hip flexors developed from single leg stationary bike pedaling drills. Saratoga Stryders member, Maureen Roberts, who doubles as our doctor on-call, has already begun her single leg squats and walking lunges hefting ten-pound handweights. I swear by my twice-weekly lunchtime stair running sessions to develop high knee lift and climbing power.
It also helps to cultivate a shrug-your-shoulders "whatever" attitude. Snow can be fickle and courses are sometimes altered to accommodate that fact; some are approached as mud excursions, others are rescheduled and occasionally even relocated. Updates from race directors are posted weekly on dionwmacsnowshoe.com and on Facebook (search: Dion WMAC Snowshoe Series) to include other regional events. Most races will have a limited supply of Dion Snowshoe rentals, so email the race director if you need to reserve a pair.
READ THE FULL ARTICLE IN THE DECEMBER 2017 ISSUE OF ADIRONDACK SPORTS OR AT www.adksports.com.
Laura Clark of Saratoga Springs NY is an avid trail runner, ultramarathoner, snowshoer and cross country skier. She is a children's librarian at the Saratoga Springs Public Library and also one of the organizers of the Dion WMAC Snowshoe Series.