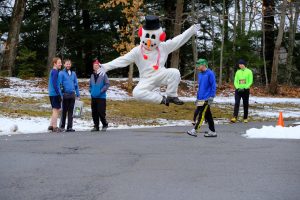 On Saturday 2/24,  37 runners toed the starting line at the AREEP's annual Brave the Blizzard races in Guilderland's Tawasentha Park. Both the 5k and 5.5mi courses featured an abundance of slush, slop, mud, and cold puddles. Fred Brooks & Megan Boyak were the first 5k finishers, and Tim Van Orden & Madeleine Fischer took the top places in the 5.5mi. As always, runners were treated to a post-race pancake feast.
Thanks goes out as always to the ever upbeat ARE Event Productions staff and their small army of volunteers for a fun event despite the treacherous, messy conditions.
Race results can be found here.
Race photos can be found on the Albany Running Exchange Facebook page.
And once again, Laura Clark has given us a report on her experience slipping, sliding, and sloshing though the mud and slush.