… though this is related, trust me. One of the unsung heroes of snowshoeing in the northeast is Laura Clark. Along with series founder Ed Alibozek, Laura has done an incredible amount of work promoting snowshoeing in this part of the country, through organizing races (the Saratoga Winterfest race in early February is in its 18th year – that's older than most of the students I teach!), writing articles and race reports for a variety of outlets, helping with races, and competing in an impressive number of events both during snowshoe season and the rest of the year. You wouldn't be reading this right now if it wasn't for Laura (she's the one who asked me if I'd be willing to help out.)
But this isn't about Laura, it's about her late husband Jeff, who passed away back in 2014. Jeff was one of us too – helping Laura organize the Saratoga races (and making sure things went smoothly while she was out on the course running the race) and in many cases hiking races while she competed in them (which sometimes meant he left before the runners did and had the unique joy of breaking the trail until the runners caught up and passed him.) Jeff was always willing to help out, always supportive, always had a story to tell, and always had a smile and positive comment for everyone.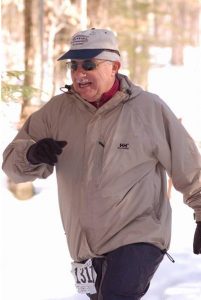 Jeff at the 2008 Curly's Record Run snowshoe race.
Yesterday Jeff was honored by Saratoga County as part of their "Honoring Our Deceased Veterans" program, in recognition of his service during the Vietnam war. During the ceremony a flag that was flown over the Nation's capitol in his honor was raised and will fly over the Saratoga County Offices for the next thirty days. More information can be found in an article about the ceremony and Jeff's military service in the Saratogian.