by Laura Clark
There is so much more complexity to a race than the act of putting one foot in front of the other.  Just ask the mascot rooster of Cock-A-Doodle-Shoe Snowshoe Race in Saranac, New York.  Winter is generally a slow time of year for him no matter what the circumstances, but this year with the out-of-category Arctic air, his harem was totally uninterested in his personal agenda. So he had a lot of time on his hands to plan and plot, which led to some elaborate logistics for his namesake event.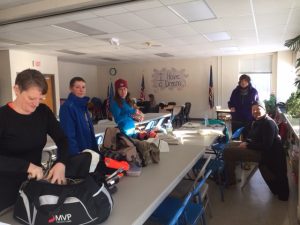 Instead of heading directly to Plumadore Road and the smallish trailhead parking lot, we were diverted to the staging area at Dannemora Community Center and bussed in waves according to our 5K or 10K start times. Most of us didn't realize it until the drive to the center, but the town is home to the infamous Dannemora Prison, where in 2015 two dangerous convicts escaped and set off a three week $80,000 manhunt.  Sensibly, they escaped in June and not in winter.  They wouldn't have lasted three days in January!  At first glance, the prison which dominated the rather bleak landscape looked more like a turreted castle and a much better residence than the surrounding wooden homes.  But then we were confronted with the prison yard.  Incredibly, it abutted directly onto the road and was ringed by serious guard towers.  I was thinking they were probably leftover vestiges from another era, but no.  Jessica Northan spotted a guard in one of them, hauling something up on a rope—maybe his lunch?  Makes you wonder who is actually the prisoner.
And speaking of lunchtime, while the 5k went off at 10:30, the 10K was scheduled for High Noon.  OK, so maybe it warmed up a degree or two by then, but really what is the difference between a few subzero degrees?  At our arrival time, the temperature in town hovered at -14 and didn't "warm up" until the drive home when it smugly checked in at 6 degrees.  We had competed at Gore's 2PM start a few weeks earlier, and that was doable, allowing for a proper lunch. Granted, Race Director Jeremy Drowne did a remarkable job of supplying the holding tank cafeteria with all the food options one could possibly desire, but the stomach timing just seemed off.  I reasoned that noon isn't that far away from 11AM, the Winterfest start, but knew I was in trouble when upon arrival at the race site, Jen Ferriss started complaining that she was hungry.  Luckily, I had the foresight to stash a molasses cookie in my backpack before I left the cafeteria, so I was slightly better off.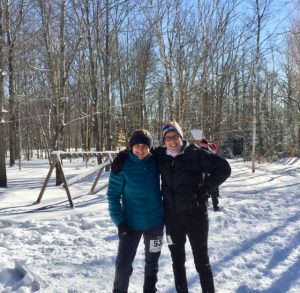 We rode to and fro on a sleek, silver-toned Veterans' transport bus piloted by a driver who must have served in Patton's Third Army Tank division as he thoroughly enjoyed hitting every bump, some of which sent us flying to the roof.  No one wanted to wait around in the cold so there was standing room only, which spawned a game of Telephone, as Jessica passed word down the line to make sure her husband Brian had made the bus and Ezra Hulbert passed word up to tell his Dad he had made it.
And that brings ups to other unsung heroes of the day: our steadfast vehicles.  While most autos were enjoying a lazy Sunday in a cozy garage, ours were yet again heroically pushing though miles of sub-zero travel, where wipers froze to dashboards, fluid froze in squirters. Even my car Sir Thomas took a hit to his heating system when the fan refused to work, nearly freezing out the passengers in the back seat.  I am awarding my snowshoe Championship medal to Sir Thomas….
Matt Miczek and I drove together and since this was his first Cockadoodle I tried to brief him on course highlights.  I remembered to warn him about the steep uphill followed by the treacherous downhill, but other than that I failed miserably.  Despite having run the route multiple times, I commented that the course was mostly flat.  And in a sense it was as it only contained one steep up and down, but the final two miles at least were a relentless gradual uphill –not anything to raise a blip on the elevation graph, but enough, especially at the end, to ensure a struggle.
Matt and I ran parallel races, despite the fact that we were nowhere near each other.  After a two week bout with the flu he tried to uphold his Adirondack Sports & Fitness cover picture status by finishing ahead of Jen Ferriss, but he finally succumbed.  Meanwhile, farther back I settled in with Kari Sharry behind me.  If she hadn't been right there I would eventually have slacked off.  Ahead of me, I noticed that Denise Dion had slowed down.  Puzzled, I eventually spotted a water stop off to the left.  I almost didn't stop, thinking that the last thing I needed was a frozen hunk of ice, but I was pleasantly surprised to taste warm water.  Imagine!  Those heroic volunteers had managed to provide warm drinks!  This was all the more appreciated since it was pointless to carry water as it would have frozen after the first sip.
When we came to the ribboned intersection near the end, Denise ducked under the ropes, heeding Jeremy's pre-race instructions to follow the arrows.  But apparently it was the wrong arrow.  My slower group behind her encountered a runner approaching the arrow from the other side and he told us we had to first run a loop to the left.  So we reeled Denise back in and trudged onward.  By this time my toe warmer had scrunched up underneath my foot, making every step feel like I was running uphill on sticks. I reminded myself it wasn't like I had torn a muscle or pulled a ligament and that the pain would be over shortly, but I had difficulty believing myself.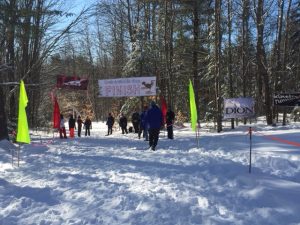 Finally, Matt and I arrived at our destination left with one nagging thought: How would we ever manage at Nationals with a 10K the first day and a half marathon the second?!
Stay tuned….
– Laura Clark is an avid snowshoer, trail runner, XC skier, race director, and 2017 World Snowshoe Federation Championship 70-99 Female Age Group winner.